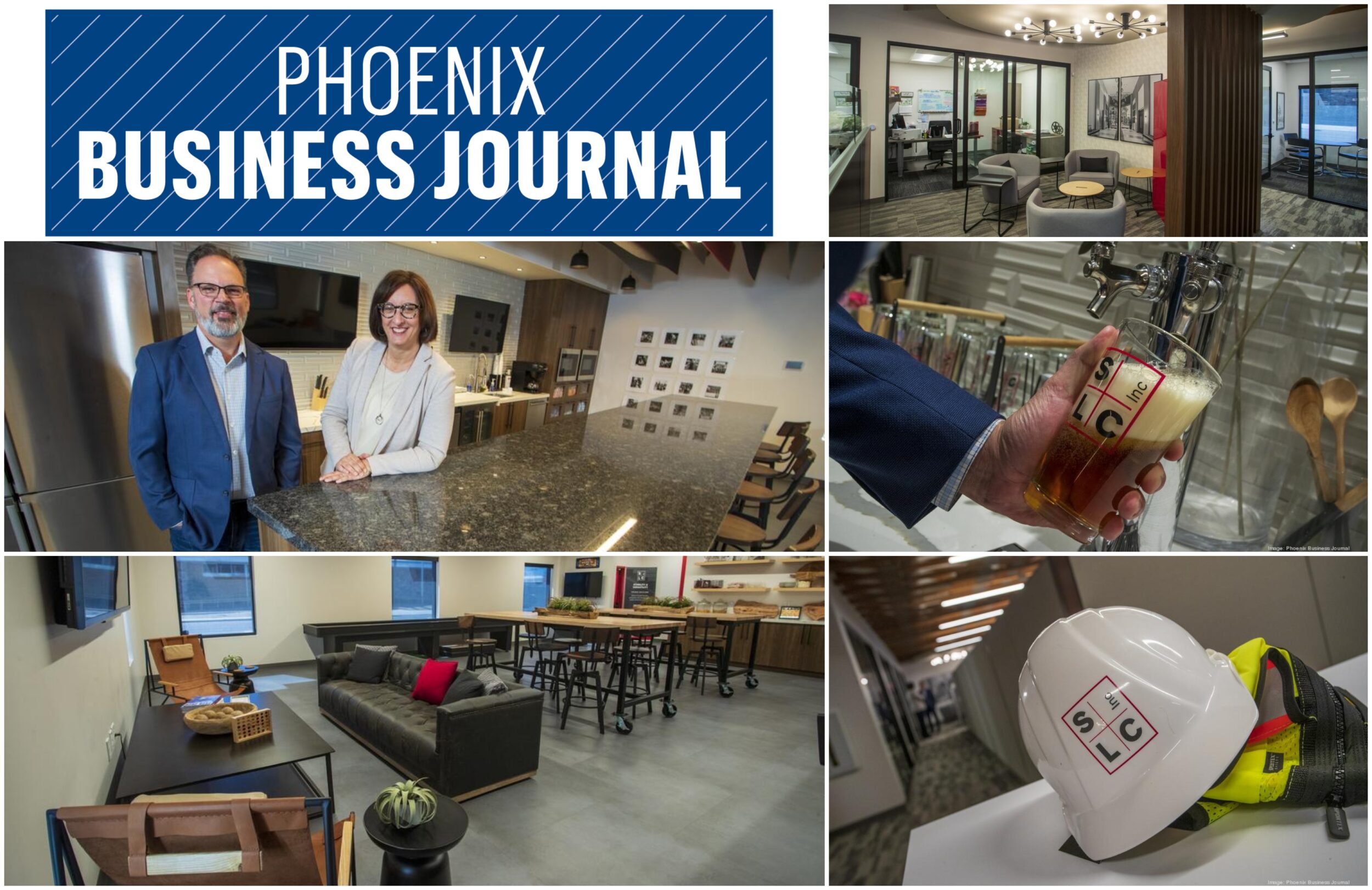 By Ron Davis – Reporter, Phoenix Business Journal.
Class A office space comes at a premium in the Phoenix metro.
In many office deals since the Covid-19 pandemic started nearly three years ago, companies are feeling the pressure to deliver a top-notch office experience — and they keep this in mind when looking at leasing new space to lure reluctant workers back to the office after the pandemic caused many to work from home.
Brokers and companies say employee wants have to be top of mind to recruit, retain and get the best out of their workforce in this post-Covid world. And despite rising rents, the costs of labor turnover often outweigh the price of companies' real estate, allowing firms some leeway to lease quality spaces in prime Valley submarkets.
Office developers task architects and interior designers to deliver that premium experience where tenants are willing to pay top dollar. Those dollars pay for amenities such as rooftop decks, meditation and wellness rooms, open ceilings, Peloton bikes, coffee bars, indoor waterfalls and more for tenants to show off to employees and clients at the office. The silver bullet, must-have amenity that will bring workers back full time is still unknown, but designers are brainstorming the possibilities.
Class A properties commanded asking rents of $34.82 per square foot across all submarkets in the Valley during the third quarter of 2022, according to a market report from Cushman & Wakefield. That is up nearly 13% from Q3 2021 when $30.86 was the going rate per square foot. Real estate experts such as Kidder Matthews' Tyler Smith have previously told the Business Journal that escalating rents are a byproduct of high-tenant improvement construction costs.
The Business Journal spoke to several leading architects and developers in the Valley to discuss how they determine a company's office needs in 2022 and the biggest trends they are seeing right now.
Understanding tenant motivations
For architecture firm Nelsen Partners, there was an expectation that The Grove in Phoenix was going to be that kind of special project. The firm was working on another prominent project — Sam Fox's Global Ambassador Hotel in Phoenix's Arcadia neighborhood — when developers got the approval for The Grove. Already working on a luxury hotel, Nelsen brought that hospitality feel to three class A office buildings on-site, starting with a rooftop amenity deck.The Grove fully leased its 180,000 square feet of office space ahead of brokerage firm JLL moving into the building in October. Other tenants such as Sendoso, Clayco, Clear Sky Capital, Common Bond Development Group, JPMorgan Chase and Banner Health are also set to join The Grove.
The key for Nelsen Partners when taking on new projects is building off and applying feedback from previous projects, and since the pandemic, it has led to the incorporation of physical and mental wellness and providing a way for employees to entertain, interact and, of course, work, said George Melara, vice president and Arizona managing director for Nelsen Partners. Bringing elements of home to the office also is important to encourage workers to come back, he said.The deck at The Grove was an obvious choice because of its views of Camelback Mountain, he said. Green space, outdoor space and more connection to nature contribute to overall wellness and bring out more productivity. Walkable amenities like restaurants nearby were also plusses that Nelsen could lean into, Melara said.
"It's kind of staring you right in the face," he said. "That all went into the design of The Grove in terms of knowing that we have this great view and connection to the mountains. … It adds to that positive wellness when you can walk instead of drive to a place."
Bringing some outdoor aspect inside is a notable George Oliver touch on Hayden Station in Tempe, which will be rebranded as Arbor. The new design theme, which the developer is calling urban organic will heavily focus on adding plants and creating outdoor park settings. In total, the complex includes 124,000 square feet of space with four 2-story office and retail buildings and one 5-story office building.
Being intentional on acquisitions
George Oliver looks to offer employees what they don't have at the home office, said Curt Kremer, founder and managing partner of the development company. But those building amenities can change because of the dynamics and culture of the city involved. Dart boards and beer kegs might be a good start for Arbor, located in a college town near Arizona State University. For other properties, like the Biltmore Commerce Center in Camelback Corridor, a cocktail bar might be more fitting.The firm, which only designs the buildings it owns, is also very intentional when it comes to its real estate acquisitions. When the company acquired the Biltmore Commerce Center, it became a must-have property because of the building's size, current features like underground parking and large atrium — all things where George Oliver's design team could get creative. The most important quality is the building's location along Camelback Road in Phoenix on a premier corner.
"This concept doesn't always work for traditional spaces. You look at the buildings we've bought, they've all had a uniqueness to them," Kremer said. "In this [Tempe], privatized outdoor space is really hard to come by. … A perfect building for us has enough vacancy where we can come in and implement our process, enough income where we can come in and secure better financing. If it's the nicest building in a good location, there's going to be a pricing premium. What makes what we do really great is that we have to infuse a lot of capital."The group likes to have one project completed as it starts another. Arbor will complete in the first quarter of next year. George Oliver will kick off construction on the Biltmore Commerce Center during Q1 2023.
Getting on the same page with clients
Corgan project design manager Alexandra Ayers and her team focus on, namely the functionality of work space. She said Corgan has discovery meetings trying to determine what clients are actually wanting and working on the functionality of the space for the client, its employees and customers.While every client and their needs are different, a common theme from companies that reach out to Corgan and Ayers is, "what can we add to bring employees back into the office?" Although it could be a flashy upgrade, the answer might not always be showing off a top-flight break room but rather a space that's aligned with company culture, such as wanting to be in a LEED-certified space.
For prospective tenants looking to join a George Oliver office building, the conversations are less on the must-have amenities and more on the unknown of how much space they'll need to take, which is a far cry from pre-Covid days when a tenant knew how much space was needed down to the square foot.
Kremer said those concerns are usually calmed by understanding the employee count and current work-from-home dynamics. While an office suite might not be able to house every employee, there are common areas and swing space and possible expansions within the building that are available.
Making an impression is key for Phoenix Design One. The firm works to determine what environment speaks to the client by crafting mood boards and doing sketch modeling to create a feel and a visual of what the reception, break room and outdoor areas and others look like.
A product of that process led to an "around-the-world" speculative suites with London, Dubai, and Los Angeles-themed suites at Camelback Center.
"When brokers take tenants on the tour, we want it to be memorable," said Victoria Fearey, principal at Phoenix Design One. "We want to stand out and be the talk of the town."
The top asks and why flexibility is key
Jamie Godwin , president and CEO of Stevens-Leinweber Construction has found the office build-out to have evolved even before Covid-19 sent a lot of the workforce to work from home.
"Over the last few years that probably predates Covid, what used to be somewhat of cookie-cutter approach — very generic-type finishes — because of the competitive nature of the market, clients have essentially wanted to outdo the competition," Godwin said. "Everything has specialty ceilings, really nice break rooms, high-end lighting, all that has done has driven up the cost."
By how much? Godwin estimates five years ago his firm could build-out a speculative office suite for $45 per square foot. Today, it's not uncommon for that figure to be $75 per square foot, a roughly two-thirds increase. Those budget increases are from inflation, supply costs and labor and the quality of material used to build a top-flight office.
The top requests his firm sees in the keynotes sent from architects have been evolved, including the office layout and the interior materials. Those include more open-concept designs and collaborative spaces, exposed ceilings and clients opting for polished concrete floors instead of carpeted spaces.
Tenants also look for a "menu" of spaces within the space, Fearey said. Traditional "heads-down" workstations are still part of the requests Phoenix Design One fields but also space for quick meetings, phone calls or virtual meetings and lounge space for employees to unwind are part of the menu.For outside-the-office requests, Fearey found access to food and beverages, relaxation or game rooms are ways that employees can get away from your work environment for a bit without actually leaving.
While employers might not require or expect every employee to show up at the office five days a week, a meeting space to accommodate many has been part of the initial brainstorming between tenant and architect or landlord. For George Oliver, the smaller office suites it offers might not have the space to have one big meeting room, so the developer gets creative by offering those spaces within their buildings' common amenity areas.
"Flexibility is a key word in our world right now. We're also big believers that not everyone is most productive working in the office," Kremer said. "It's reacting to as much of the need as possible, but it's not going to be everything for everybody."
That flexibility extends to the terms of the lease the tenants want to sign with length and termination options as well as the possibility to expand into a neighboring suite or floor.
Back to Articles