Ready for Class: Stevens-Leinweber Delivers Fifth Phoenix Vista College Prep Campus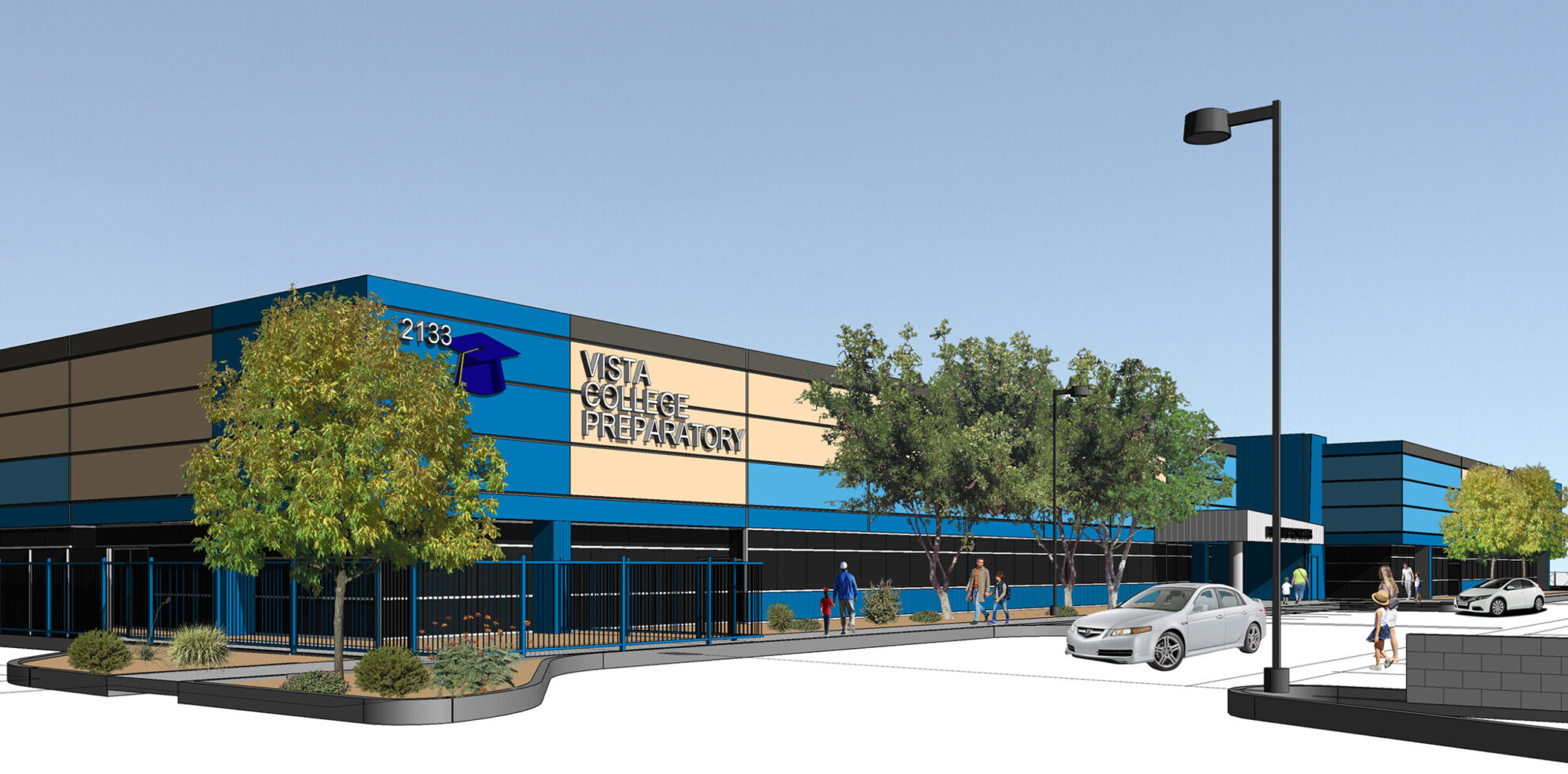 Metrocenter-area location breaks with tradition for tuition-free school, includes Boys & Girls Club space
PHOENIX, Arizona, August 4, 2022 – Just in time for the 2022-23 school year, Stevens-Leinweber Construction, Inc. has completed its fifth and newest campus for Vista College Preparatory (VCP), a tuition-free public charter school educating K-8 students in metro Phoenix.
Called VCP-Metro North, the new location is an adaptive reuse of an existing call center and was chosen after an extensive socioeconomic and demographic analysis.
"VCP's mission is to provide high-quality programming – often to underserved communities – that prepares kids for success in college and life," said Julia Meyerson, CEO of Vista College Prep. "By locating within an existing building, VCP-Metro North can deliver on that mission at a much faster pace, in a market where population growth is placing heavy demand on education. We're so proud and excited to start the 2022-23 school year at our newest VCP location."
Located at 2133 W. Peoria Ave., VCP-Metro North totals 64,162 square feet in the Black Canyon Commerce Park. At capacity, VCP-Metro North will serve 820 students from kindergarten through eighth grade with state-of-the-art classrooms, a library, generous multi-purpose room, cafeteria services and administrative space. Future development includes the addition of a gym and soccer field.
In addition to bringing an award-winning school to the Metrocenter submarket, VCP has also partnered with the Boys & Girls Club of the Valley, which is opening its first branch in the area. The Boys & Girls Club Metro North Branch will initially only be available to Vista College Prep students and will offer after school, summer and sports and recreation programs.
"VCP is an exceptional organization, always looking for new ways to serve its students," said SLC Vice President Erik Powell. "We worked side-by-side with the VCP team to transform this building into an incredible space for learning and play, and one that will serve students in the area for years to come."
Carhuff + Cueva served as the project architect at VCP-Metro North. Foursite Consulting provided real estate consulting services. The school sits just off of Interstate 17 with quick access to Light Rail and within one mile of Metrocenter, where a $750 million plan is underway to redevelop the former mall into thousands of multifamily units, almost 400,000 square feet of retail and commercial space, and a park.
SLC provided full construction management and interior services for VCP-Metro North. SLC has served in the same role for all VCP Phoenix campuses: VCP-Hadley, VCP-Maryvale and VCP-Sueño Park. For more information, visit www.vistacollegeprep.org.
###
About Stevens Leinweber Construction, Inc.
Stevens-Leinweber Construction (SLC) is one of the Valley's most active ground-up and tenant improvement contractors, providing both general contracting and design-build services to SLC clients across the office, industrial, retail and mixed-use sectors. Respected by architects, designers, owners and developers, the company is selected time and again to complete some of the Valley's most prominent projects. Over its 40-year history, SLC has completed more than 8,500 projects in the Phoenix metro area.
Media Contact:
Stacey Hershauer
480.600.0195
Back to Articles