Metrocenter Redevelopment Spurs Lake Biltmore Corporate Center Renovation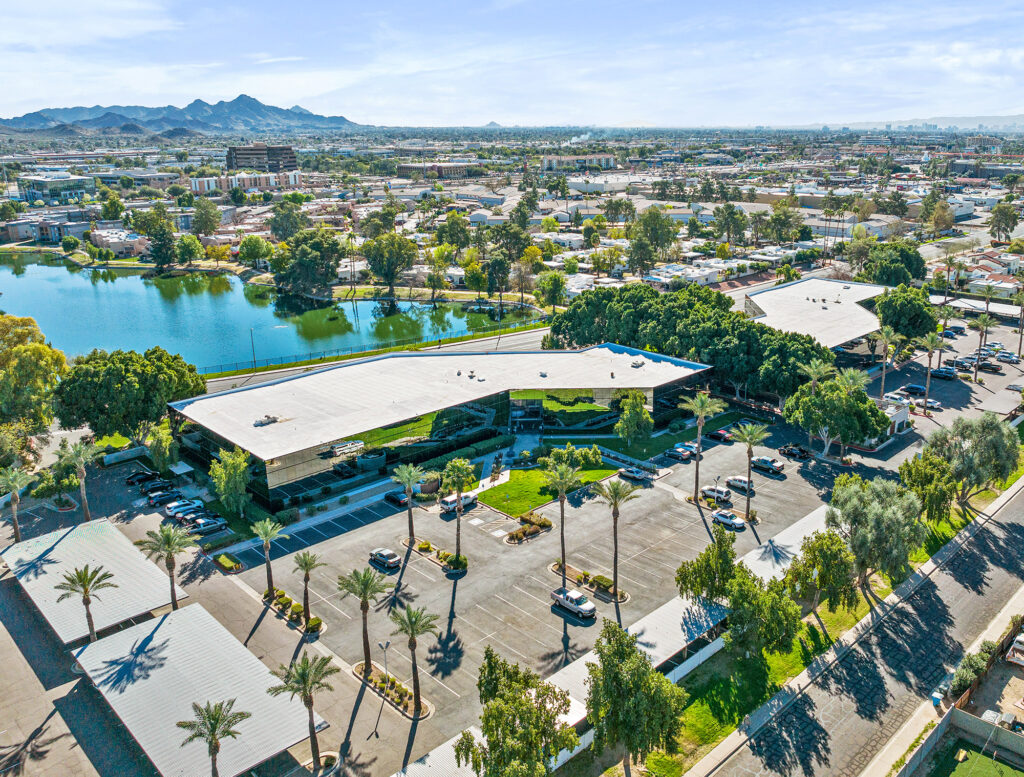 Stevens-Leinweber heads redevelopment of prime two-building, lakefront Phoenix office project
PHOENIX, Arizona, February 21, 2023 – On behalf of building owner WJM Enterprises LLC, Stevens-Leinweber Construction is underway on the multi-million-dollar renovation of Lake Biltmore Corporate Center, a two-building lakefront office campus located minutes from the iconic, soon-to-be demolished and redeveloped Metrocenter Mall.
Plans for Lake Biltmore Corporate Center include redesigned common areas, conference rooms, corridors, lobbies, staircases, modernized landscaping and wayfinding signage, and ADA restroom upgrades. Improvements will also include both new and upgraded mechanical, electrical and HVAC systems, as well as a fully renovated employee break area offering space for food storage and preparation, as well as eating and seating areas in a boutique environment.
Office spaces, including move-in-ready spec suites, will target smaller to mid-size tenants needing 1,500 square feet and above.
"The transformation of Metrocenter Mall has become a powerful economic driver for this trade area, creating an exciting ripple effect for projects situated all around the mall property," said Harold Dorenbecher, representative for Lake Biltmore Corporate Center's ownership. "The reimagined Lake Biltmore Corporate Center will bring this asset up to modern specifications, making it one of the nicest office buildings in the area, with a focus on providing the lifestyle and workplace amenities that today's employees and employers are prioritizing."
Lake Biltmore Corporate Center totals 102,000 square feet in two glass-clad, two-story buildings. Both buildings front a community lake, providing sweeping water views.
The project is located on 6.86 acres at 11022 and 11024 N. 28th Dr. in Phoenix, immediately west of Interstate 17 between Peoria Avenue and Cactus Road, and less than one-half mile north of Metrocenter Mall and a future Valley Metro Light Rail station.
Renovation activity at Lake Biltmore Center is already underway on 30,000 square feet in the 11024 building, with completion scheduled for second quarter 2023. Design for this space, and the entire project,  follows a modern nautical theme inspired by water, sand and sky, mixing quartz, tile and natural wood materials.
Phoenix-based Stevens-Leinweber Construction serves as the project's general contractor. Scottsdale-based iDESIGNS is the architect. Philip Wurth, Executive Vice President for Colliers, is the exclusive leasing broker for both office buildings.
"We are thrilled to be working with a group that is so committed to elevating Phoenix's commercial real estate inventory," said Stevens-Leinweber Construction President and CEO Jamie Godwin. "We have a long history with this ownership team and appreciate the opportunity to execute their vision for this high-caliber asset. The result will bring contemporary, experience-driven office space to a submarket going through a tremendous transition."
"This is a truly unique asset located at main-and-main for this submarket's redevelopment," said Wurth. "New businesses, new residences, a massive new retail attraction and a new Light Rail stop will provide everything needed for a successful infill office property like Lake Biltmore Corporate Center – all topped off by this property's stunning water views, which are extremely rare for the area."
Nearby amenities to Lake Biltmore Center most predominantly include the soon-to-be-redeveloped Metrocenter Mall, a property that is slated for an approximately $1 billion demolition and renovation bringing retail, apartment, hotel and park space to the 80-acre site. A new Light Rail stop will also terminate at the property as part of the Northwest Light Rail Extension Phase II.
WJM Enterprises LLC purchased Lake Biltmore Corporate Center in early 2022 for $11.5 million. The company, through other entities, has successfully renovated office buildings with Stevens-Leinweber Construction in the Ahwatukee and the Scottsdale Airport submarkets.
For leasing information at Lake Biltmore Corporate Center, contact Wurth at 602.222.5181.
###
About Stevens Leinweber Construction, Inc.
Stevens-Leinweber Construction (SLC) is one of the Valley's most active ground-up and tenant improvement contractors, providing both general contracting and design-build services to SLC clients across the office, industrial, retail and mixed-use sectors. Respected by architects, designers, owners and developers, the company is selected time and again to complete some of the Valley's most prominent projects. Over its 40-year history, SLC has completed more than 9,000 projects in the Phoenix metro area.
Media Contact:
Stacey Hershauer
480.600.0195
Back to Articles