Executive Inc.: Meet Jamie Godwin, president of general contractor Stevens-Leinweber Construction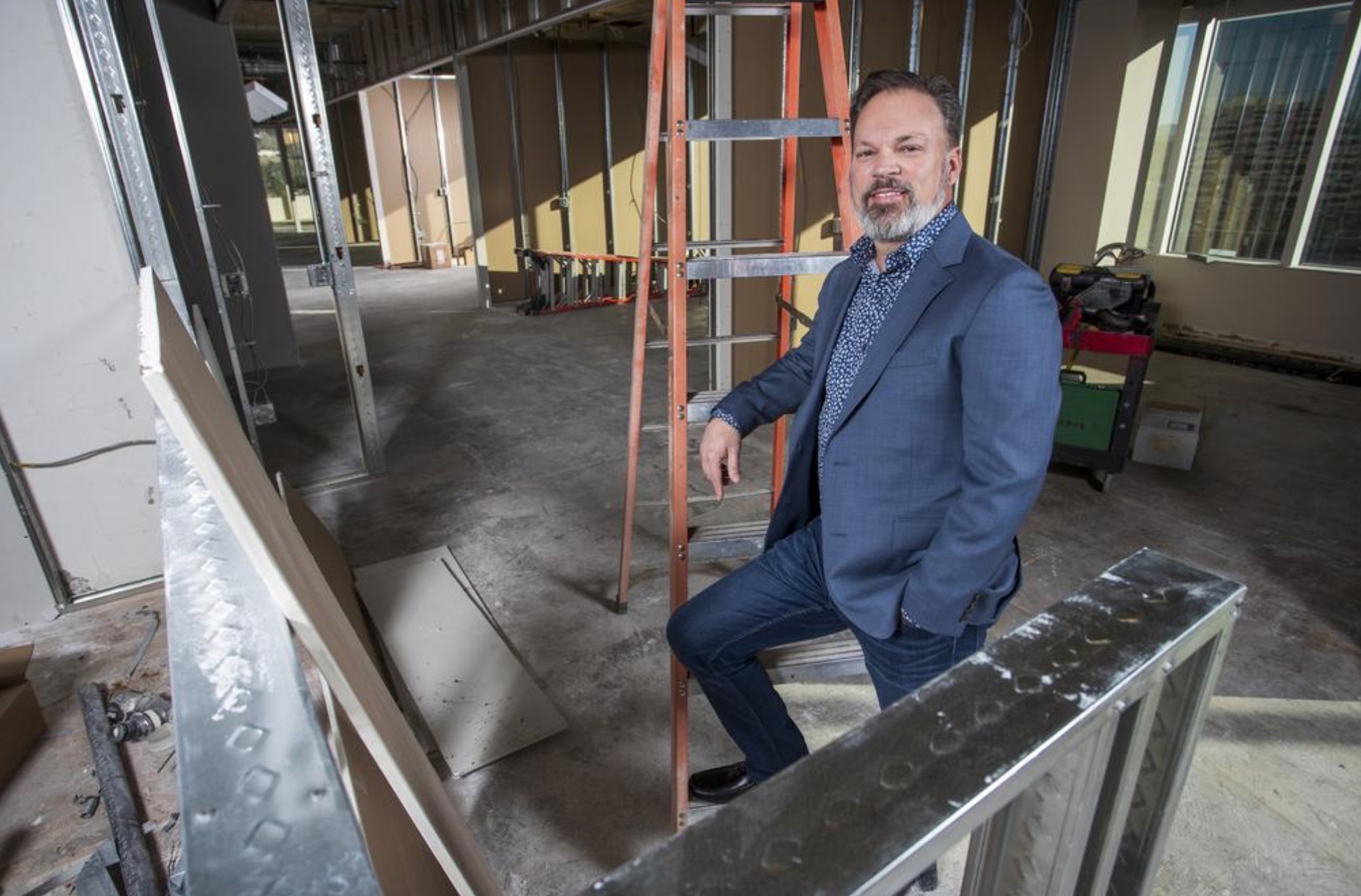 By Audrey Jensen – Reporter, Phoenix Business Journal
Georgia native Jamie Godwin has been around real estate and construction for most of his life.
"My grandfather was a superintendent both in the commercial side of things as well as residential. That was my first exposure to construction, I worked alongside him while I was still in high school, when I was young, and it piqued my interest," Godwin said.
Initially, the now-president of commercial building contractor Stevens-Leinweber Construction wanted to be an architect, but Godwin changed his mind once he learned about other opportunities in the real estate world.
"My vision of architects was slumped over a drafting table every day, and my thought at the time was, 'Well gosh I'd rather be out in the field,'" he said. "Once I found out there was a construction degree, I ended up heading in that direction instead of architecture."
Godwin moved to the Phoenix area in the '90s and was hired at Opus West Construction Corp., where he worked for more than a decade and eventually served as head of design build operations. But as the Great Recession impacted Opus, Godwin's career also changed.
What led you to work for Stevens-Leinweber Construction? I was with [Opus] up until 2009, when they were unfortunately a victim of the Recession. At that point, there were certainly not a lot of job opportunities for somebody with my experience, so I ended up electing to start my own company. A couple years into that, I had the opportunity to work alongside Mark Leinweber and we worked on some projects where I was functioning in a construction manager role and Stevens-Leinweber was the general contractor. We actually did two or three projects together like that, and then in late 2013 Mark wanted to meet with me, basically kind of out of the blue, said 'Hey, Mike Stevens and I are trying to figure out a longer term exit strategy as we get closer to retirement. After working with you, we really think you're the person that we want to come in and lead our company moving forward.'
How has the company changed since you started? When we were in those early discussions about me coming over I said, 'I'm willing to accept that you're a tenant improvement contractor and that there may never be an opportunity for me to do ground-up construction,' because that was primarily what my background was. But I also wanted to know they would not object if I ultimately decided to try to diversify and get into some ground-up construction once I was running the business. I had been here going on probably two and half, three years, when I made the decision, OK, let's put the effort into trying to do that, diversify, add the ground-up component. That certainly was the biggest decision strategically that I made within those first three, four years.
We've done literally millions of square feet in industrial in the past couple of years with millions going on right now. Last year was the first year our ground-up volume surpassed the volume of our tenant improvement business.
What is your favorite aspect of the job? It's just the ability to be involved in something that goes from a concept to then ultimately being a reality. I can drive around town here, whether it's downtown or Camelback around the perimeter, and I'm able to drive by and see these buildings that I was involved in from just a sketch on a napkin, basically. That's just rewarding.
How did Stevens-Leinweber work through Covid-19? We had to spend a significant amount of time evaluating our policies, thinking about how we're trying to manage Covid. When Covid hit in 2020, it was almost like a crisis management situation. You're evaluating your risks and weaknesses and the what-ifs, which I did, and that evolved into wanting to think through and establish a vision for the next three years for our company. We're trying to make a difference, whether that's in the community with charitable stuff and improvement to our processes.
What will the commercial construction industry look like in 2022? Coming out of 2021 with a strong volume of work in that industrial and manufacturing sector, we had a very good backlog heading into this year. Certainly a ton of activity continuing, a lot of people looking to get deals put together and I foresee that's going to continue. I do think that we're going to see a little bit of a struggle within this year with that material availability and lead time issue. I don't think we're gonna see the volume that we could if people had the ability to move projects as fast as they really want to move projects. I think it's going to push some things off until later in the year. But if anything, that just bodes well for next year.
On the office side, we've done a lot of smaller size projects, smaller square footages of projects, and not as many larger. There's so many larger national organizations that may have East Coast, West Coast operations, and we've seen they've just been really more slow and deliberate with making longer term plans for what they're doing with their office-ing. I really thought by now we would have been past Covid and we would've figured out what they're going to do but with the ongoing challenges with Covid, it's just prolonged those decisions. It's tough to know exactly how office is going to look throughout this year.
Jamie Godwin
Title: President and CEO
Company: Stevens-Leinweber Construction Inc.
Education: Bachelor's degree, construction management, Georgia Institute of Technology
What is your favorite spot in Arizona to visit? Escaping to the cooler weather and the pines of Show Low.
What advice would you give to your younger self? Never say never.
What is your leadership philosophy? Hire extremely talented individuals, give them responsibility, and then empower them to make decisions appropriate to their role.
Back to Articles